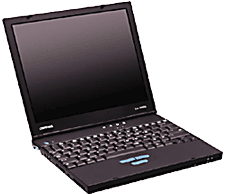 Power Management:

Supports APM, with unchangeable caveats when on battery:

No indication of battery time remaining, only percentage of battery life (workaround: ibam)
Machine shuts off at some percentage of battery life remaining, whether you like it or not (I think it's 15%)
Screen blanks after 30 seconds with no input (USB mouse not considered input)
Machine suspends after five minutes with no input (USB mouse still not considered input)

Prefers ACPI, but as of Linux 2.4.20, Linux support not good enough to be useful; patches from the Linux ACPI project may help, but without the proper DSDT changes may burn up your computer, so I've shied away so far. This may help: Getting ACPI to work on a Compaq Evo N410c running Linux How-To

Ethernet: Intel, e100 driver (eepro100 works but hangs; though I've actually had both hang on me, so I may have a hardware problem)
Modem: Lucent (Agere) LT Winmodem ("LTmodem"), working binary-only driver available
Audio: ESS Allegro ES1988, maestro3 driver
Video: ATI Rage Mobility M1, ati driver (XFree86 4.1.x or higher)

LCD is 1024x768x24 bit
TV-out works if it's connected on bootup
I haven't gotten a good X display on the TV when using X's ati driver, but the vesa framebuffer displays fine on the TV when booted with vga=0x318, 0x312, or 0x315.

Pointer: 3-button "eraserhead", PS/2 driver
Keyboard and related buttons

"Win95" keyboard -- one Windows key, one Menu key (I use the Windows key as a meta key, and the Menu key as a compose key for accented characters)
Esc key is tiny and too close to ~/` key; Fn key is where I expect Ctrl key
Fn combinations:

Fn-F2: toggles power to wireless adapter on "multiport" (on cover)
Fn-F4: toggles external video
Fn-F5: (volume) doesn't work
Fn-F6: lock? doesn't work ?
Fn-F7: battery? doesn't work ?
Fn-F8: battery time left - doesn't work?
Fn-F10: (brightness) toggles control of brightness with left and right arrow keys

Hotkey buttons usable with hotkeys (keyboard type kb9963; button names Help, WebBrowser, Search, Email), or possibly FunKeys)
Volume buttons don't work

USB: works, UHCI driver; I compile modules for all possible USB devices just in case
Infrared: I haven't tried it, though I'd love to be able to use my laptop as a TV remote control
Multiport (on cover) 802.11b wireless adapter:

Multiport is USB interface with different type of connector
Multiport 802.11b adapter uses prism2 chip
Supported by linux-wlan-ng project (which is still somewhat primitive) since 0.1.14-pre3, but unreliable with WEP (firmware bug?), still stops after a few minutes even without WEP, and machine freezes if module is removed. (For now I use a Cisco Aironet PC-card instead) Firmware upgrade available.

Mobile Expansion Unit (MEU): Peripherals in "multibays" work only if connected during bootup
Force power-off: hold suspend and power switches simultaneously
If machine powers itself off due to low battery, sometimes it won't come back after connecting power. Resolution: disconnect all power and batteries, then hold the power button on for a minute. Then reconnect power, turn on (it lives!), and reconnect batteries.
I have an IDE-to-USB adapter for attaching an external hard disk, as well as the Compaq multibay DVD/CD-RW drive in my MEU. But when both are connected, the USB driver hangs in initialization (Win2K seems to behave the same way). I think the adapter is screwy.
Other pages on this laptop or similar models:
---
Rob Funk <rfunk@funknet.net>